Miracle on Death Row
The 330+ condemned men had no reason to celebrate as they sat, awaiting their fate, in their 6′ x 9′ cells.
Pastor Jim & James "Gator" Leggett walked up and down "The Row" praying for a miracle of grace that day. Praying one lost soul there in hell's waiting room would receive the free gift of Jesus. Those prayers were soon answered by Manny Valle.
Early on in their conversation, they learned Manny had already been living in this 6′ x 9′ cell on Death Row for 29 years and didn't know Jesus from a can of paint.
At first the three men talked about Philly Cheesesteak sandwiches and Mustang automobiles. They talked for a long while about anything except God.
At what seemed to be the right time, the obvious was brought to light. Jim & Gator shared their stories of how Jesus had touched and changed their lives.
With an interest and openness that is not of this world, Manny sat on the edge of his seat for every word. When asked if he too would like to receive God's greatest gift, Manny bowed his head and slipped his hands through the bars.
With Jim holding one hand and Gator holding the other, Manny invited Jesus to be his Savior. He was baptized is his own tears of joy and repentance. It was real. It was Holy. It was God's grace.
When the three finished praying, Jim asked, "Manny, do you have a Bible?" The answer was a quick and simple, "No."
At that precise second, as if it had been choreographed, the heavy metal door 60 feet away opened and a complete stranger's voice rang out; "Does anyone need a Bible?"
Manny, Gator & Jim broke out laughing! "Yes! We need one right over here!"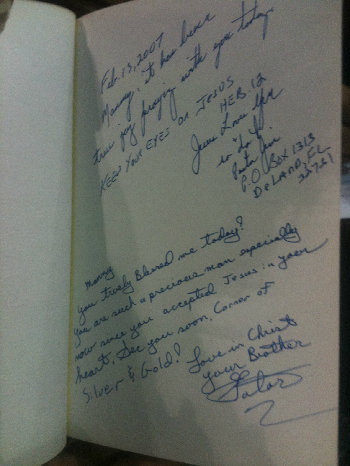 Laughing and crying at the same time, Gator & Jim signed Manny's Bible, said a prayer and left The Row with great rejoicing.
There were many visits with Manny over the next four years. Each visit was something impossible to explain or describe. Manny was perpetually filled with the joy of the Lord and a peace that passes all human understanding.
It was evident in his letters. It was conveyed in his laughter. It was crystal clear in his testimony and in his eyes. Manny was a new creature in Christ. A bright, bright light in a dark, dark place.
As surreal as every visit was, one was the most special of all. Just a few days before Manny's execution on Sept. 28, 2011, God gave Pastor Jim a special gift, a 3 hr. visit with Manny & his sister.
They laughed and cried and prayed together. They read aloud Paul's marvelous words from Romans 8, "There is, therefore, now no condemnation for those who are in Christ. For the law of the Spirit of life has set us free from the law of sin and death."
Upon saying goodbye, Manny looked at Pastor Jim and with a smile that lit up the room said, "I will see you at the Pearly Gate! I will be waiting for you there … with a Philly Cheesesteak sandwich and a box of cannolis!"
After 33 years on Death Row, our friend and brother-in-Christ is walking on streets of gold, dancing with the angels and the saints of old.
Truly, mercy triumphs over judgement. Truly, our God's grace is amazing … and Jesus is Lord!
---